In recent years, eyeglasses have become a necessity for an increasing number of people whether they wear glasses for vision correction or just for a better look. Nowadays, eyeglasses come in variety of styles, colors and shapes, which may make some people confused while choosing eyeglasses frames for them? There are some factors that have influence on your decision choosing eyeglasses frames. Take advantage of this brief guide to help you decide what eyeglasses frames you need.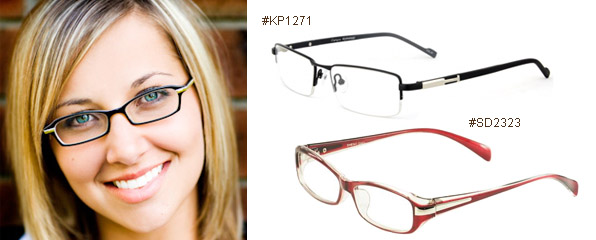 The style of glasses frames will affect the look of your glasses and the shape of the lenses. There are many styles to choose from such as wayfarer, round, rectangular, etc. and eyeglasses frames can be rimless, semi-rimless and full rimmed. You can choose trendy styles that can spice up you look such as vintage glasses frames, nerd eyeglasses frames that are quite hot in 2012. No matter what kind of frame style you choose, the shape of eyeglass frames should be contrast to your face shape. For instance, people with a round face can choose rectangle or square frames instead of round eyeglasses frames.
The materials of eyeglasses frames can affect the weight, comfort of glasses and your viewing pleasure. For example, if you take comfort as top priority, titanium eyeglasses frames are what you need. Featuring excellent light weight and flexibility, you will feel very comfortable. Titanium eyeglasses frames in rimless design boast extra comfort and light weight.
There are some aspects that you can take into consideration while choosing eyeglasses frames such as your skin color, hair color, and your complexion. Well, the most effective way and easiest way to find the right eyeglasses frames suited for you is to keep trying on glasses. Whether you choose eyeglasses frames online or offline, you can try on any eyeglasses you prefer until you find the right one.